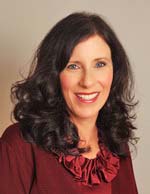 | Associate Real Estate Broker Peter J. Riolo Real Estate
Peter J. Riolo Real Estate
30 Main Street
Hastings-On-Hudson, NY 10706
Email Phone: (914) 478 1400

About Lynn
Lynn's unique background as an attorney enhances her ability to advocate on behalf of her clients. As an active resident of Dobbs Ferry for almost two decades, Lynn has immersed herself in the Rivertown communities by participating in various organizations including volunteering in her school district. Lynn's own experience in buying and renovating several homes assists her clients in seeing the value and potential of any given space. These skills along with her integrity, level of enthusiasm and commitment to her clients will successfully guide buyers and sellers in reaching their real estate goals.
Areas of Specialization
Client Advocate
Skilled Negotiator
Conceptualizing and Renovating Spaces
Knowledge of Rivertowns
Background
Born in Brooklyn, NY, Resident of Dobbs Ferry since 2001
Married with 2 children in the Dobbs Ferry School System
Bachelor of Arts from Furman University
Juris Doctor from University of Richmond
Licensed to practice law in New York and Pennsylvania
Awards, Designations & Affiliations
Certified Buyer Representative
Member Hudson Gateway Association of Realtors
Member New York State Association of Realtors
Member National Association of Realtors
Member Westchester Real Estate
Member of the New York State Bar and Pennsylvania Bar
Lynn's Testimonials
Lynn came highly recommended from a fellow realtor in Larchmont as an expert on the Rivertowns and she didn't disappoint! Lynn took the time to understand our desires and applied her expert knowledge of the area to finding us our new home. Lynn is super nice to work with but she could also be aggressive on our behalf. The seller's agent of our new home was very unconventional and Lynn managed [...]
Lynn was extremely helpful in assisting us find a house. She genuinely wanted us to find a place that suited our needs perfectly, and it was nice to have someone truly on our side. She was very thorough, reliable, and available, and her legal expertise was an added bonus. I would highly recommend her to any buyer looking for a home! Jason L.
Lynn was invaluable in helping us relocate to the Rivertowns. She has an in-depth knowledge of the market and key contacts that helped us get exactly what we wanted. Really appreciate her perspective as a fellow parent! Kristine S.
I don't know where to begin, Lynn goes above and beyond. She is a very sweet lady and will go the extra mile for you. I will always go back to using Lynn. She is truly amazing. Oscar Q.
Lynn was instrumental in the purchase of our apartment in Hastings-on-Hudson. She was at all times attentive to the details of a rapidly changing and developing situation. It is thanks to her vigilance that we were able to secure a very lucrative property purchase. Marcella K. [...]
Lynn, thanks so much for being a fantastic broker and advocate. We are so excited to move into our new home and couldn't have gotten it without you. Shirley L.
As first time buyers, we were incredibly fortunate to have Lynn as our agent. She was SO helpful and supportive, and patiently guided us through every minute detail throughout the entire, lengthy buying process—we always felt confident and reassured that we were in great hands! It was such a positive experience working with Lynn and we have remained in close contact to this day. We highly recommend [...]
Lynn, We did it! We sold the house! Thanks so much for your help in staging, showing the house and guiding us through the process. You went above and beyond in checking on things when we weren't there, too. Thank you! We appreciate all that you did for us! Audrey T. [...]
We were fairly picky first-time home buyers when we started looking for our new house in the Rivertowns so of course we were incredibly naïve and anxious about the process. On our very first day with Lynn, we not only looked at nine houses we also got an amazing tour of the Rivertowns and we started to learn all of the ins and outs of what was in store for us. From that day forward, Lynn continued to be steadfastly positive, [...]
Lynn is a consummate professional who showed unlimited patience and resourcefulness in our long hunt for a home in Hastings-On-Hudson. We ended up buying after several years of looking and we couldn't be happier. Lynn was also extremely competent in ensuring the quick and smooth sale of our former home. We would highly recommend Lynn to anyone buying or selling a home. Thank you Lynn! [...]