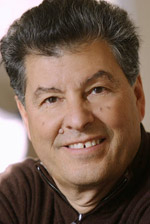 | Real Estate Broker Peter J. Riolo Real Estate
Peter J. Riolo Real Estate
30 Main Street
Hastings-On-Hudson, NY 10706
Email Phone: (914) 478 1400

About Arthur
The Riolos have been in real estate since 1934, when Arthur and Peter's father created the firm. Born and raised in Hastings-on-Hudson, Arthur has continued the tradition of providing superior service and integrity to real estate clients in the Rivertowns and beyond.
Each client is dealt with as an individual – attended to with patience and understanding. Arthur takes pride in his many repeat clients working with them at different stages of their lives, understanding that a change of homes is often also a change in lifestyle. He and his family's long connection with the area give him an unparalleled insight of the region and its many assets. A love of travel and an appreciation of many cultures also contribute to the ability to understand and match diverse wants and needs to properties.
His range of services includes, selling single and multi family homes, vacant land, condos and coops, commercial and industrial. He also handles and manages rental properties.
He is well connected with bankers and attorneys and has a tremendous pool of contractors whom he can recommend and who all speak highly of him in return.
Thanks to the newest technologies, Arthur keeps informed about the market and availabilities, not restricting himself to only showing his own listings. He is fair and is respected as such in the business.
Areas of Specialization
Excellent knowledge of Westchester with a focus on the River villages
Listing all types of property
Negotiating skills
Marketing to enhance value
Facilitating all aspects of the transaction
Estate appraisals
Awards, Designations & Affiliations
Member Westchester County Board of Realtors
Member National Association of Realtors
Member Westchester Real Estate
Westchester County Board of Realtors Diamond Award
Ranks among the top 5% Westchester Realtors
Community Involvement
Member of the Affordable Housing Committee
Member of the LWRP
Sponsor of Hastings Friday Night Live events
Member of River Arts
Sponsor of the Hastings Recreation Basketball
Interests
Tennis and Basketball player
Enjoy boating on the Hudson River
Wine connoisseur
Gardener
Keen interest in the stock market and its relationship to real estate
Background
Born, raised and residing in Hastings-on-Hudson
Married with 2 sons, one of whom is pursuing a real estate career
Bachelor's degree from Franklin Marshall College