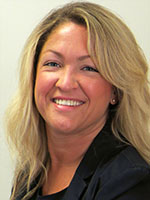 | Real Estate Salesperson Peter J. Riolo Real Estate
Peter J. Riolo Real Estate
30 Main Street
Hastings-On-Hudson, NY 10706
Email Phone: (914) 478 1400

About Alexandra
Raised in Irvington, the daughter of a prominent architect in the area, Alexandra knows the Rivertowns like the back of her hand. She sells and lists real estate primarily in Hastings-on-Hudson, Dobbs Ferry, Irvington and adjacent areas.
Alexandra holds a B.S. in Marketing from Fordham University, Gabelli School of Business and A.A.S. in Fashion Marketing from Parsons the New School for Design.
Needless to say, sellers, buyers and renters find Alexandra a delight to work with. Areas of specialization; Residential, including single family, multifamily, co-op, condo and luxury homes.
Member:
National Association of Realtors
NYS Association of Realtors
Hudson Gateway Associations of Realtors
Hudson Gateway Multiple Listing Service
Alexandra's Testimonials
We were looking to buy a house in the river towns and Alexandra was our realtor. Alexandra was very proactive in getting us last minute appointments, she really knows the market in the area. Her responsiveness was spectacular, she would email us back or text any time. She also helped us find a lawyer, and she knows the local workmen which was very helpful for negotiating and closing the deal. When we found the house we wanted to buy, she didn't push just to close the deal but she helped [...]
Where to begin...Alexandra is stellar in more ways than can be written. Her charisma, on point knowledge and clear understanding of connection to her clients (I was a tough one) is monumental. After a long drag, again on me, her patience spoke volumes which then translated to the 100th home we landed, locked and loaded. Alexandra certainly likes a challenge and even if one is not presented she will take to task from beginning to end. No doubt, she has your back. A. [...]
Alexandra is the best and most responsible at what she does. I highly recommended her to two of my colleagues. She helped me find the apartment of my dreams within 2 weeks. I am amazed how great she is. I have been searching to buy for 3 years. I've been working with different agents-Alexandra is incomparable to all. I am extremely happy. She will be remembered forever!!! Ana Anitoaie
Alexandra was great! She knows the area and gives honest opinions and advise. Goes out of her way to get all the information i needed to make an informed decision and does everything promptly. Did not waste my time showing me places i wouldn't like. She figured out what I wanted and took me there. Can't recommend her enough. Bill Mehr
We recently purchased our first house and could not have been happier with our experience with Alexandra. Her local knowledge was first-rate, she was frank and to-the-point, and we knew that she always had our best interests in mind when viewing a property. When it came time to get the ball rolling on the house that we wanted, Alexandra was tenacious and always made sure that we were aware of what was going on and the next steps. She made the entire experience a fast and pleasant one and we [...]
HIGHLY RECOMMEND! Alexandra is everything you could want in a realtor and more. She is extremely dedicated, always available, and highly knowledgeable about the process. To top it all off, she's from the area, so can speak from experience about everything it has to offer! She was there every step of the way as we prepared to sell our co-op, providing us advice and insight on what would make it the most appealing to potential buyers. She connected us with vendors, sent us examples of [...]
We worked with Alexandra as our selling agent to sell our house in Hastings on Hudson. This was an end-to-end excellent experience. To start, we had spoken with two other agents regarding selling our house prior to meeting with Alexandra. Whereas the two other agents gave our house an at best cursory look through and then presented a suggested asking price (that they had CLEARLY come up with before even laying eyes on our house), Alexandra came in, did a very careful inspection of the house, [...]
Our search was time sensitive and, despite a dearth of options, Alexandra was able to find an apartment that met all of our specs within a two week timeframe. Impressive, given the scarce inventory with which she had to work. Sean Waters
Alexandra Minner was a real dream agent through our process. Organized, great feedback, very responsive and understanding of our needs. Her area knowledge was imperative for our decision making and on the top of everything Alexandra has sense of humor that comes handy when dealing with a new house. Highly recommend. Marguerite Beltrano
I recently worked with Alexandra on the purchase of my co-op and I was very happy with her service. This was my first time buying property and Alexandra made it super easy and always kept me informed. She is extremely professional and incredibly thorough. Alexandra knows the market inside and out; she walked me through what to expect and was patient and very responsive when answering all my follow-up questions. She is super flexible and really goes above and beyond to serve her clients [...]